The U.S. Supreme Court will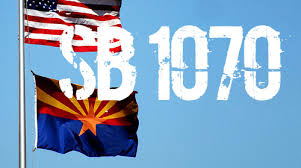 hear arguments in the lawsuit challenging the constitutionality of Arizona's immigration law, Senate Bill 1070. Its ruling could impact immigration laws nationwide and push the immigration debate into the spotlight during the final months of the 2012 presidential race.
The high court issued its two-sentence decision to hear the case Monday morning. No court date has been set, but justices will likely hear arguments this spring and release a decision in the summer. Gov. Jan Brewer asked the high court to hear the case after the 9th U.S. Circuit Court of Appeals upheld Arizona federal Judge Susan Bolton's 2010 decision to halt several key parts of the law.
At its core, the case is about how large a role states may play in creating and enforcing immigration laws. Bolton ruled that immigration is the responsibility of the federal government, not individual states. State officials maintain that the law merely mirrors existing federal immigration laws and that states have the right to enforce them, particularly when the federal government does not.
This year, several other states passed laws similar to SB 1070 and face federal challenges by the U.S. Department of Justice. Alabama's law mimics SB 1070 and adds other regulations, including requiring public schools to check students' legal status. The 11th U.S. Circuit Court of Appeals blocked some parts of that law from going into effect.
"This is something that needs to be decided by the highest court in the land," said Ira Mehlman, spokesman for the Washington, D.C.-based Federation for American Immigration Reform, which supports tougher immigration restrictions. "States will finally have some definitive guidelines of what they can do to enforce the federal immigration laws that the federal government either neglects to enforce or, in the case of the Obama administration, openly refuses to enforce," Mehlman said.
It is somewhat unusual for the Supreme Court to take up a case at the preliminary-injunction stage instead of waiting for the lower courts to rule on the full merits of the case. The underlying lawsuit the federal government filed challenging SB 1070, as well as several of the other cases filed against the law, is still awaiting a trial before Bolton. But legal experts on both sides of the issue say that in this case, the injunction — and the legal reasons given for why it was necessary — is the case.
Brewer signed SB 1070 on April 23, 2010. The law, among other things, made it a state crime to be in the country illegally. MORE