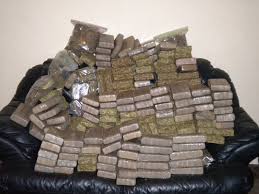 Under current policy, Los Angeles police officers automatically impound the vehicles of unlicensed drivers discovered during routine traffic stops. Under recently proposed changes, an unlicensed driver who has not been previously convicted of driving without a license would be allowed to keep their vehicles if they can call a licensed driver to pick up the vehicle.
Authorities arrested two people after finding bales of marijuana inside a Phoenix home. The Illegal Immigration Prevention Apprehension Co-op Team (IIMPACT) detectives served a search warrant at the home near Camelback Road and 79th Avenue on Tuesday. Officers found bales of marijuana stacked inside a bathroom shower, according to the Arizona Department of Public Safety. They also found more marijuana concealed in two vehicles parked outside. They seized a total of 870 pounds of marijuana.
Officers arrested Ricardo Suarez, 23, a Mexican National, and Viviana Cardenas, 26, an American citizen. They were booked on charges of possession of marijuana for sale. Two other people residing in the home were found not be involved in the case and were turned over to the custody of U.S. Immigration and Customs Enforcement. The search warrant was part of an ongoing investigation by IIMPACT, which is composed of the DPS, Phoenix Police Department and ICE. Story.